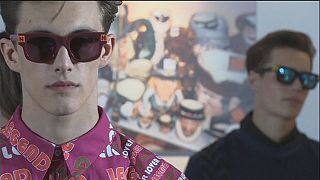 It was feet first on the catwalk at Men's fashion week officially known as "London Collections Men". Seventy-seven designers were showing their designs for the Spring Summer 2016.
Among them, at this the seventh edition of the show was Northern Irish young designer Jonathan Anderson whose label is seen as one of London's most innovative and forward thinking brands.
His new men collection featured wide legged, high waisted trousers. Sleeveless tops were the order of the day worn with loafers or open shoes that buckled at the ankle.
Shapes were mostly soft and rounded and created in fabrics like raw denim and hand knitted cotton.
Richard James didn't disappoint the bolder fashion man with his latest collection.
The Savile Row tailor produced some distinctive colours, cuts and prints on the catwalk.
Using a palette of off-the-beaten track reds, blues and greens, he composed a cohesive collection suited to both casual and formal occasions.
He matched floral printed shirts, jackets and trousers to slippers or orchestrated laid back looks with suede bomber jackets and tailored shorts.
His cuts were fitted but relaxed and his man was nothing if not a modern dandy.
The Alexander McQueen label released its latest collection of menswear to a packed and expectant house in London.
It featured bold primary colours mixed with a definite nod towards body art.
Suits were embroidered with naval tattoos and under-the-sea prints. There were cut-off sleeves and trousers with a mix of bomber style jackets overlaying blazers.
Palettes of white, blues of various kinds, navy being the key and black supported the sailor idea.
From the House of Holland there was a static collection which shared the exhibition space with photographs by acclaimed photographer Martin Parr.
Models stood wearing the new designs among Parr's pictures with guests taking in both.
Holland made his mark on the womens' wear market with irreverent slogan tee-shirts. Fittingly, his mens casual-wear including shorts, jackets and jumpers were emblazoned with the words "Lover", "Lad" and "Legend".
There were jackets and trousers with stripes in bold colour, monochrome zigzags and plaid.