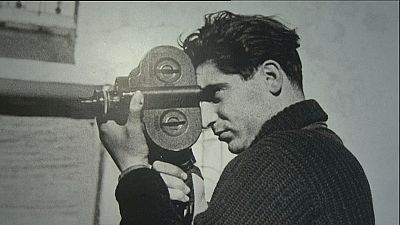 The colour work of famed photographer Robert Capa. is celebrated in a new book and exhibition in Budapest, the place of his birth in 1913.
One of the founders of Magnum Photos he made his name shooting war in black-and-white, but from the 1940's on he increasingly turned to colour for publications such as 'Life' and 'Holiday.'
Peter Hoppal is Hungary's minister for culture: "For the Hungarian government it is essential, to showcase Hungarian artistic photography to the world and also to show how the visions of Hungarian artists shaped the history of the twentieth century."
The show also features portraits of Humphrey Bogart, Pablo Picasso, Ernest Hemingway, Ingmar Bergman and Roberto Rossellini.
Capa died in 1954 after stepping on a landmine while on assignment for 'Life' during the first First Indochina War.
'Capa in Color' runs until September 20 in Budapest, Hungary.