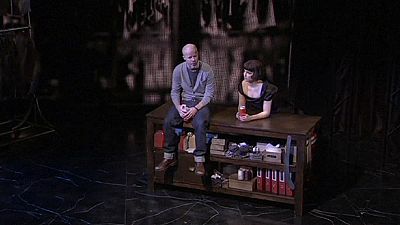 Five years after his death, it seems interest in British fashion icon Alexander McQueen is at an all-time high.
A new stage production has got underway in London, starring English actor Stephen Wight as the late fashion designer, who committed suicide in February 2010.
"There was enough pressure that I put on myself that I don't really, if I'm honest, I don't really care what anyone else thinks. If the family are happy and his friends and they feel that we've paid a good homage to his legacy and tried to tell a true a tale of Lee's life, that's all I really care about," said Stephen Wight.
The play takes place over a single night and shows McQueen on the brink of suicide, winding a belt round his hand, when a young woman named Dahlia, breaks into his East London warehouse in search of a dress.
US actress Dianna Agron, in the role of Dahlia, did a lot of research into understand McQueen's character: "What you find when you watch old footage of him – he was very spirited and jovial and comical and I think what I responded to the most was (the fact that) his journey as an artist wasn't an easy road."
The play coincides with a major retrospective of McQueen's work, 'Savage Beauty':http://www.theguardian.com/commentisfree/2015/may/08/alexander-mcqueens-work-strange-wonderful-gift-to-human-culture, currently running at London's Victoria & Albert Museum.
Entitled 'McQueen', the play is not to everyone's taste and has been described as a pretentious, unshapely piece (that) feels like something of a fashion faux pas by one critic.
It runs at London's St James Theatre until late June.