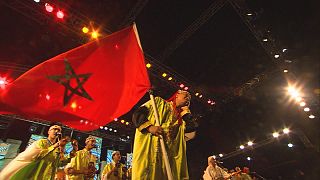 Euronews arts correspondent Wolfgang Spindler takes us to Morocco to a special place and a special festival
Welcome to Essaouira, where the traditional parade of Gnaoua Musicians opened this year's festival, a colourful and vibrant event which engages the locals and the many tourists.
This year sees the 18th edition of the event which celebrates the centuries old tradition of Gnaoua music. The festival honours the Maâlems, the master musicians. Formally the Maâlems had little social status today they are a central part of Moroccan culture.
An important aspect of the festival are the Fusion Concerts, every year international musicians are invited to rehearse alongside the Gnaoua players and prepare a performance where different musical styles merge.
On the opening night Africa fused with Asia when Afghan musician Humayun Khan joined Maâlem Hamid El Kasri on stage.
Humayun Khan spoke of the joy of performing with Maâlem Hamid El Kasri: "He is a grand master, its a learning experience, I wanna say this again I have the honour of performing with him, I learn, I am a student, I learn so many things, different ways of looking at certain rhythms, so thank you so much."
Danish guitarist Mikkel Nordsø joined forces with the Marrakech master Mustafa Bakbou the unlikely pairing came about when Nordsø's bass player Peter Danstrup introduced Nordsø to Gnaoua music.
Another unusual mix saw Maâlem Omar Hayat perform with Sonny Troupé from Guadeloupe, Troupé was delighted:" This was a great meeting, really I am very happy."
The festival is not only about Gnaoua Music its also an important platform for Morocco's emerging musical talents.
Hindi Zahra is a young Moroccan singer accompanied by prodigy Mehdi Nassouili, both are deeply rooted in the Berber tradition.
"To me Berber music is African, I also like change, I want to incorporate Brasil, I chose rhythms from other countries and cultures which I enjoy and I I try to mix them with my vision and my culture, Moroccan and African."
The Gnaoua Music Festival is a liberating and spiritual experience.