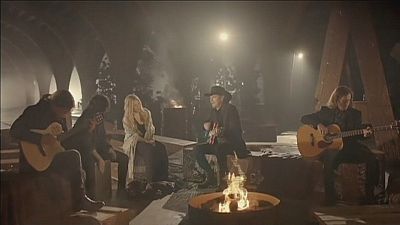 Maná, one of the most successful Spanish-language rock bands of all time, is releasing its new album, 'Cama Incendiada'.
The first single from the album, a duet with Colombian superstar, Shakira, has already made the Top Latin Billboards.
Talking about their new record, the band's guitarist, Sergio Vallín, said: "It's our roots, but at the same time it's a new sound for us. We are also very happy with the lyrics, which are wonderful and we're looking forward to launching it."
Maná has always been vocal about denouncing violence and corruption in their native Mexico. 'Cama Incendiada,' like most of their previous albums, features politically themed songs.
"Mexico is a country that deserves a better government," said the band's lead singer Fher Olvera. "It seems like we haven't made very smart choices when it comes to our leaders, there's too much corruption. But the good news is that it's a country that's resurfacing, it's a country that is increasingly protesting through social media, people are more involved politically and expressing their dissatisfaction."
Throughout a career spanning nearly three decades, the band has earned four Grammy Awards, seven Latin Grammies and sold more than 40 million albums worldwide.
Maná's world tour kicks off on June 10th in California.