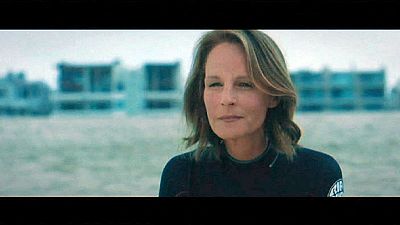 'Ride' is the tale of a single mother who travels across the US to join her college dropout son as he begins his new life as a surfer.
The film is written and directed by Helen Hunt: "I had this idea hearing the phrase 'soccer mom' all the time, in Canada you hear 'hockey mom', in LA you hear 'surf moms.' And there's all these moms sort of benched while their kids play and I thought, 'You should be flipping that around and we need to get the mother on the field or in the water so that was sort of the impetus for the movie."
As well a writing and directing 'Ride' Hunt steps from behind the camera to perform in the movie, she says it was inevitable:
"The first movie I made I told myself, I played this game with myself as if I wasn't going to be in it and then ultimately I was. This time I didn't bother because I really didn't think I could get another actor to put up with what I put up with. I was in the ocean for nine hours at a stretch. You can't ask a civilized human being to do that."
'Ride' is currently making waves in the US and Canada.