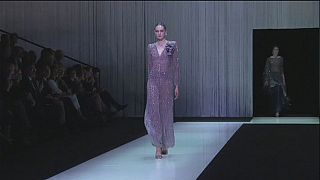 Italy's Giorgio Armani has celebrated 40 years in fashion with a star-studded gala, a fashion show and the opening of a museum dedicated to his designer business.
The 40 minute-long retrospective show featured a selection from the collections of "Giorgio Armani Privé" , the Haute Couture line launched by the 80-year-old designer back in 2005.
The event drew a number of A-list celebrities including Leonardo DiCaprio, Italian actresses Ornella Mutti and Sofia Loren, as well as Armani fan Cate Blanchett, who was sporting a chic cream Armani pant suit.
"Over the years I keep returning to the house of Armani because it's got this extraordinary melange between the masculine and the feminine. I think that's a line that I enjoy walking, aesthetically," said the actress.
"I bought my first Armani blazer in his boutique in New York on Madison Avenue in '85, I think it was, so not very long after he came to our country, and I still have a closet-full of those beautiful suits, those classic suits, and I still wear them," said Glen Close.
"It means beauty, grace. It means dignity of style and elegance," said former 007 actor Pierce Brosnan.
"He is Italy. I think he is fashion. He is an artist. He represents somebody that wants to keep and stay Italian," said Ornella Muti.
Born into a working-class family, Giorgio Armani started out as a window dresser in Milan, before launching his own label in 1975. He has gone on to become one of Italy's most successful designers with a fortune estimated at more than 7 billion dollars.