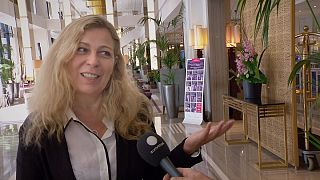 Following acclaimed Iranian director Asghar Farhadi last year, it was the turn of Danish film-maker Lone Scherfig to give a masterclass at this edition of the Instanbul film festival.
One of Europe's best-known female directors, Scherfig has been involved with Lars Von Trier's Dogme 95 movement and has received critical acclaim for her movies, including the Oscar-nominated 'An Education'.
A coming-of-age film based in the Sixties, 'An Education' stars Carey Mulligan as a 16-year old schoolgirl preparing for Oxford University, who meets a charming older man, played by Peter Sarsgaard.
Scherfig talked to euronews' culture reporter Wolfgang Spindler about her approach to working with actors.
"I have a sister who is stage director and she has taught me some tricks. And directing is also about knowing what it is they (actors) do, how it is they think and then sometimes just leaving them alone because they are responsible people and they want to do a good interpretation, too. So I have worked with hundreds and hundreds of actors and I respect their craft and their courage and that's a good start," she told euronews correspondent Wolfgang Spindler.
Graduating from the Danish Film School in 1984, Scherfig started out in advertising and television, and is best known for her romantic comedies.
Her 2000 Dogme film 'Italian for Beginners' marked her international breakthrough.
She says film-making has evolved dramatically since those days: "If I had grown up in a younger generation I would have (…) just shot films on my cell phone and had the joy of sharing things, sharing humour or worries with the audience.
"But I come from a more classical tradition, where you needed a big camera and a big crew in order to work. But somehow it gets lighter and faster over the years. So if you can remember your classical heritage and use it to do something that has a different technical language then it's fine. Our film language is changing drastically these days and you have to make sure to maintain it as the art form that it is even if everyone can shoot a film now," she said of her film-making style.
Set in a fictional all-male, exclusive dining club at Oxford University, Scherfig's latest movie, 'The Riot Club', has met critical acclaim in Europe and is now out in North America.
She said the biggest difficulty with this movie was having the courage to not want things to end the way they should, but the way they would
"The biggest challenge is to decide whether the film should have a strong political message or whether it should be more mainstream and leave the audience in more harmony," she explained. "And that's the biggest struggle we had and we have made the decision that the ending is unpredictable and more political than may feel nice for the audience."
Scherfig is currently working on a new romantic comedy, 'Their Finest Hour and a Half', starring Gemma Arterton, Sam Claflin and Bill Nighy, about a British film crew that tries to boost morale during World War II by making a propaganda movie.