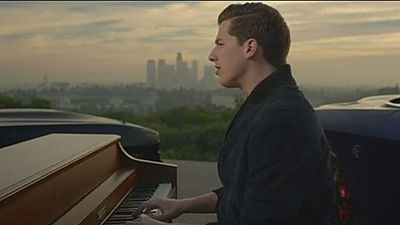 Charlie Puth is adjusting to life in the fast lane. The 23-year-old newcomer has topped Billboard's Hot 100 chart with his Paul Walker tribute song featured in the box office hit 'Furious 7'.
But the young singer-songwriter has not let let success go to his head: "I knew that the movie company was looking for a song to have at the end of the movie, for Paul Walker. And I was like, 'I'll take a whack at it.' I was like 'They're not going to choose mine, though. I'm just going to try just to show my publisher that I can work and I deserve to be signed.' And I sent it to them and I got a response in like two minutes saying that 'That's it. That's the one.'"
Written for rapper Wiz Khalifa, 'See You Again' has helped the blockbuster's soundtrack debut at No. 1 on the Billboard's 200 albums chart.
Puth says that while he was writing the song, he was thinking of a friend of his who, like actor Paul Walker, also died in a car crash: "It was a similar situation with my friend. He loved racing cars, just like Paul did and I was always like 'Man, you're going to kill yourself one day because you are going so quickly in these cars.' But ironically enough, he had gotten hit by a car on a very not busy road, which was very ironic. And I was absolutely heartbroken when I heard that news," he explains.
In addition to the massively successful 'See You Again', Charlie Puth's first major label release 'Marvin Gaye', featuring Meghan Trainor, has already had more than 2.5 million views on YouTube since its release on 1st April.