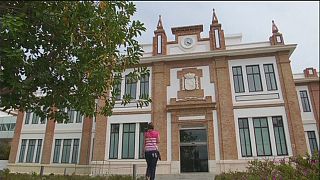 It's a little piece of Russia under the Málaga sun located in a former tobacco factory.
The southern Spanish resort has opened a new branch of the St. Petersburg Russian State Museum, offering a journey through Russian art ranging from 16th century icons to the Russian Avant-garde and the Revolution.
For its first annual exhibition, the museum is showing some 100 art works including paintings by Kandinsky, Olga Rosanova and Marc Chagall, among other famous Russian artists.
"When it comes to Russian art, most people know about the icons and the Avant-garde: Malevitch, Kandinsky, Chagall. It's as if, between the icons and Malevitch, there was nothing. People have forgotten about nearly 500 years of Russian art history," says museum guide Olga Sajarova.
Two temporary exhibitions will be shown every season. The first is dedicated to Sergei Diaghilev, famous entrepreneur and founder of the itinerant ballet company Les Ballets Russes.
Diaghilev worked with the greatest artists of his time, including Picasso, to create the costumes and sets for his productions.
"Diaghilev was Picasso's close friend, he revolutionised musical production in his time. He worked with the best composers and wrote 'The Cocked Hat' with Spanish composer Manuel de Falla and Picasso. So there are more connections between Russian culture and Spanish culture than people think," says the musem's director José María Luna.
The city of Málaga, which has has spent 100 million euros on arts and culture in the past decade, also recently opened its own branch of the Paris Pompidou center, in the hope of drawing more tourists and boosting the ailing local economy.
Time will tell whether the gamble pays off.