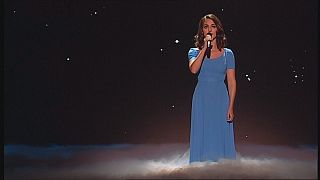 The time for the annual Eurovision Song Contest is nearly upon us again. With preparations underway for the May bash in Vienna, the spotlight is falling on some of the national selections, and Hungary appears to be an early favourite.
Boggie's "Wars for Nothing" is bringing a message of peace to the contest. Only a year after going solo one of her music videos, "Nouveau parfum", went viral in 2014, racking up 30 million views.
Her follow-up debut album went to number 17 in America with its mixture of pop, jazz, folk and classical music.
"Actually my song is a hymnic ballad pleading for peace. Three composers, many inspirations but one goal: to raise people's 
attention to this issue, and I think music is more powerful than 
some people might think and my song is a peace song and I really 
hope that Europe will hear my message," she says.
The original video for the song featured references to Gaza that brought condemnation from Hungary's Israeli ambassador, who asked the Hungarian broadcasting authority to remove the offending footage.
Boggie insists her song is just a peace song and does not single out any country or conflict in particular.
"For me it's a great honour to represent my country and I really believe in my song, really believe in the strength of my song and I think this kind of message is really important on the Eurovision stage."
To get to the finals Boggie must first win through at the May 19th semi-finals.
The Eurovision song contest began in 1956 as a supposedly non-political event intended to foster European unity after the second world war.
In its near-60 year history the contest has only ever revealed one artist or group that has gone on to forge a significant musical career; Sweden's 1974 winners Abba.