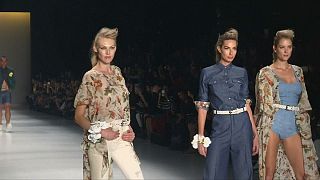 Sao Paulo Fashion Week kicked off on Monday with a dose of old-school rock-n'-roll swagger care of Iggy Pop.
The American singer was on hand to launch Chilli Beans' latest sunglasses collection in collaboration with Swarovski.
After draping himself over a gigantic pair of sunglasses, the bare-chested front man of The Stooges turned with an encrusted staff to smash the lenses behind him.
The evening progressed into a much more contained affair, as Brazilian brand Animale unveiled its 2016 Spring/Summer collection of geometric A-line skirts and leg-lengthening waist-high cuts in bass blacks and blocks of coral red.
The look was softened with panels of sheer fabrics and open floral blouses, but it was the simplicity of the details which delighted the audience most.
"I loved the show, I really like the minimalist trend which is in at the moment, there were a lot of cut-outs, open pieces in very strategic places. It was really really cool, I liked it a lot," audience member Antonela Tah told Reuters after the show.
"Brazilian fashion is very globalised. It is very similar to Paris, New York, Milan. You can see that the stylists are impeccable. Today I saw Animale, the collection is marvellous," fashion blogger Marcia Boscardan added.
As punk stunts gave way to haute-couture, TNG later turned on a swinging country-club feel with watercolour florals and 40's halters and blazers.
The much awaited highlight of the week will be Brazilian supermodel Gisele Bundchen's final catwalk show. The world's highest-earning model of the past eight years, according to Forbes magazine, says she intends to focus more on print campaigns and family life.