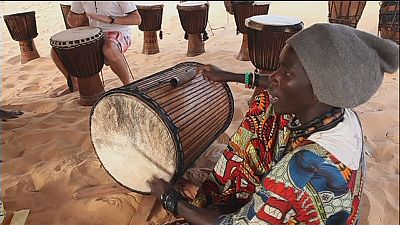 Every year at the start of spring, the dunes of the Lompoul desert in northern Senegal come to life for the Sahel Festival.
Bringing together artists celebrating the rich musical tradition of the Sahel region, it is a place where different cultures get a chance to meet and share.
Since it was launched in 2009, the Sahel Festival has become one of the most important meeting places for music from the region, which spans sub-Saharan Africa from the Atlantic Ocean in the west to the Red Sea in the east.
"This is a gathering, a mix of different cultures. So you create a festival where Mauritania will meet Senegal. Yesterday the son of Grammy-winning Malian musician Ali Farka Touré, Vieux Farka Toure, performed here. Everybody joined in, he came especially from Senegal," says musician Modou Ndiaye.
Each African country or region has its deeply-rooted musical tradition. Sahad Sarr is the lead singer and guitarist of Dakar-based band Sahad and The Nataal Patchwork: "The festival promotes culture, the culture of the Sahel region. It promotes our wisdom,our way of life, all of that. I really think that's what the Sahel Festival is about," he says.
Still relatively off the beaten track, the festival draws some 2,000 visitors, who can take a trek in the dunes on camelback or enjoy a game of football in the sand.
Offering a range of attractions and workshops beside music, the festival is also aimed at promoting tourism in the region and stimulating the local economy.