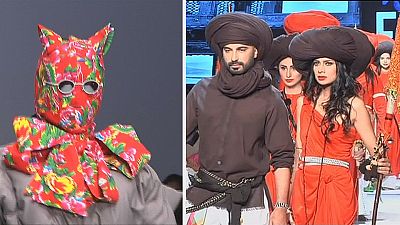 One of the most eagerly awaited shows at Beijing Fashion Week came from Amsterdam-based Chinese designer Hu Sheguang, best known for his wildly creative shoes sporting massive high heels.
Heels were still a feature of Hu's collection this time around, but the artist also looked to his roots for his latest offering, choosing the traditional Chinese padded winter jacket and colourful prints once popular in China's northeast for inspiration.
"Everyone is searching for the most sophisticated way to elevate Chinese fashion to the highest level, to do things with a particularly Chinese flair. In the past years, China has been hosting a growing number of fashion events, where you see many forward-looking designers who have their own ideas. Things are going in the right direction," said the designer.
World-famous names like Louis Vuitton and Prada used to be the most sought-after brands by the country's nouveau riche as instantly recognisable signs of wealth. But this label obsession is gradually fading, according to Su Mang, editor-in-chief of Harper's Bazaar China: "If you look at sales on the Chinese market, you notice that in the past best-sellers were always products with logos. Now, this trend is gradually declining, people want original design, more vibrant trends, and the logo obsession is getting diluted."
Moving on from Bejing to Karachi, for Fashion Pakistan Week with the latest collection by Pakistani designer Yousuf Bashir Qureshi, whose talents range from fashion design, to photography and painting.
After a stint in Los Angeles, where he was noticed for his unique South Asian artistry, he returned to Pakistan, where he launched his own fashion line, YBQ. At his show in Karachi, the designer talked about his latest collection: "It was inspired by three great Sufis of Sindh – Shah Abdul Latif Bhittai, Sachal Sarmast and Lal Shahbaz Qalandar, obviously. We're inspired by these three great men, they were the king-makers, they still are and they will be. You know that was the silhouette, the red coloru was for rage, the white was for peace and black was the sorrow."