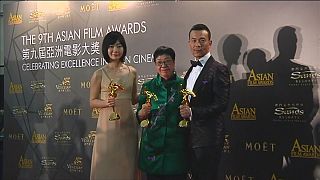 The Asian film industry is booming and this year's awards ceremony in Macau, the ninth edition, by all accounts has been the biggest and best yet.
A lifetime achievement prize was given to 78-year-old Kwon-taek, one of South Korea's most prominent and respected film-makers.
There was also special praise reserved for Chinese film-maker Ann Hui, who won the Best Director award for her film "The Golden Era".
Hui, 67, is best known for her often controversial work on social issues; subjects she says China can't shy away from forever.
"Film people are very excited about making films but obviously there will be difficulties there's censorship, a lot of subjects are…we are not able to shoot any subject we like. But I'm sure the whole thing is positive," said Hui.
The Best Film award went to Blind Massage, a movie about the lives and romantic yearnings of a group of blind massage therapists. Shot in semi-documentary style, the film also won the award for best cinematography.
For her performance as a police academy instructor in the movie 'A Girl At My Door', 35-year-old Korean actress Bae Doo-na took home Best Actress award.
She plays a police academy instructor who gets transferred from Seoul to a little seaside town where she meets and ends up protecting a teenage girl, from being abused by her classmates and violent stepfather.
So far, so good until the stepfather discovers a dark secret in the policewoman's past.
Bae Doo-na forsook her salary for the small budget film
The Best Actor gong went to China's Liao Fan. He plays the lead in the noirish drama "Black Coal, Thin Ice", the winner of last year's Golden Bear for best film at Berlin.
The movie's director, Diao Yinan, also won also the best screenplay title for his tale of a troubled ex-cop on the trail of a serial killer.
"I grew up in a family of actors, since my childhood I saw my mother and father on the stage. One day I said to myself you can be like them and decided to become an actor," replied Liao when asked about his motivation.
"Gone With the Bullets," a dazzling romance set in Shanghai during the Roaring 20s, and starring Jiang Wen, who also directed the film, took home the most awards, all in technical categories; visual effects, production and costume design.
Hong Kong
Hong Kong international Film festival is celebrating its 39th edition this year and there was a much buzz around the opening movie, "Murmur of the Hearts."
Its stars all hit the red carpet, including Isabella Leung, who's making a much heralded comeback after a seven year break from acting
The film, which also marks the return of Taiwan's Sylvia Chang, 61, after several years out of the director's chair, is a story about growing up, and letting go
As she is this year's "Filmmaker in Focus," the festival will feature 13 of her other films.
The two-week event will screen more than 250 films representing up to 50 different countries and regions.