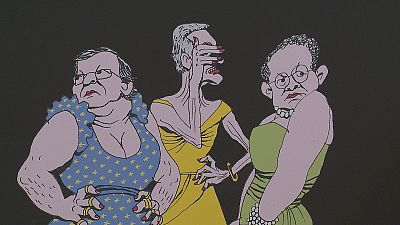 The 16th edition of the Cartoon Xira, dedicated to some of Portugual's best cartoonists, has opened in Vila Franca de Xira near Lisbon.
The terrorist attack against the French satirical paper Charlie Hebdo earlier this year obviously holds centre ground this year with a special wall dedicated to the victims.
Artists present were invited to add their signature in the name of freedom of expression.
While similar events have been cancelled for security reasons in France, the mayor of Vila Franca de Xira, Alberto Mesquita, decided nevertheless to maintain the Mostra: "Obviously we are aware of what is happening in the world. But I think that taking a step back and not holding this exhibition would have been a tremendous loss," he told euronews.
The first part of the Mostra is dedicated to the Best Cartoons of the Year. The Curator of the event, cartoonist António, sums up the year 2014:
"The crisis! We have our own national crisis, the European crisis, the American crisis, the crisis in the Islamic world … Well, if I had to use only one word, it would 'crisis'."
Many drawings in 2014 were devoted to internal politics, including the fall of Portugal's historic Banco Espírito Santo and the arrest of former Prime Minister José Sócrates.
But Cartoon Xira is not just about Portuguese politics. For the past seven years, organisers have invited a world-famous cartoonist as guest honour.
This year's guest is Polish cartoonist Pawel Kuczynski. Entitled "Reflexes", the retrospective of his work covers themes ranging from war to hunger or ecology.
"This exhibition shows my work from 2002 up until now. It's quite comprehensive. There are cartoons I made for magazines and newspapers, as well as for books. Others were created specifically for satirical publishings," he said.
Kuczynski, who has won more than 130 international prizes, calls himself a realist illustrator of our surreal times?. The artist, who has been drawing for more than a decade, saw his popularity soar in recent years thanks to Facebook – which, ironically, he criticizes in his drawings. His works include a strong critique of social communication through social media and also refer to economic inequality and political distrust.
Featuring a total of around 200 drawings, Cartoon Xira runs at Vila Franca de Xira's Patriarchal Pantry until May 10th.