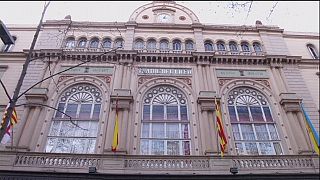 Located in the heart of the famous Rambla, The Gran Teatre del Liceu is one of the most important opera houses in Europe and one of Barcelona's major attractions.
Since it first opened in the mid 19th century, it has survived anarchist bombings, two fires, a civil war and two financial crises. The last one resulted in severe budgetary cuts.
But as the Spanish economy slowly begins to recover, the Liceu is bouncing back with a new artistic director and a budget increase for next season.
Former assistant artistic director of the Liceu back the 1990's, Christina Scheppelmann is delighted to be back.
She says it has what it takes to compete with some of the biggest opera houses in the world.
"I think the Liceu is and will remain one of Europe's major opera houses. Of course there are giants like Covent Garden, Berlin's Staatsoper, the Bastille in Paris or Milan's La Scala. But as long as we keep attracting singers interested in performing in the theatre, then we must be doing something right," says the theatre's new artistic director, Christina Scheppelmann.
Some of the world's greatest singers have performed at the Liceu over the past century, including Maria Callas, Luciano Pavarotti, Placido Domingo, and Josep Carreras.
Peter Bronder and Cristina Toledo are currently starring in Wagner's 'Siegfried':
"From the point of view of a performer, I think the standard here is extremely good. It's on a level with every other international house I've worked with. I have the feeling it belongs to the top layers. The orchestra is very good. The string sound is wonderful, especially. And everything I've experienced here so far has been very positive," says tenor Peter Bronder.
"There's a feeling of excitement here, of renewal which I'm sure will lead to more operas being performed with the same high quality. And they will continue to use young artists, and Spanish artists," says soprano Cristina Toledo.
The 12 operas programmed this season include classics like Carmen and Cosi fan Tutte in May, Donizetti's Don Pasquale in June and Les Miserables in the summer.