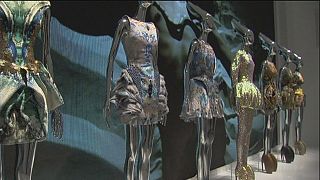 A long-awaited exhibition celebrating the life and work of visionary designer Alexander McQueen has opened in London, drawing the biggest names in the world of fashion.
Celebrities from across the fashion spectrum paid tribute to McQueen, who committed suicide in 2010.
"You know now, in today's world, all the young designers feel that they must fit into society. Alexander McQueen was never interested in that, he was a rule-breaker and that's what gave him his strength," said fashion editor Suzy Menkes.
"Incredibly exciting, very invigorating, constantly full of exciting ideas that other people weren't offering. Just a brilliant young man to work with," said photographer Nick Knight.
"He would always take you through different emotions with his shows, his dresses. You'd never know where it had come from or how he'd started thinking about that. Yeah, you know, just a lot of emotions," said supermodel Eva Herzigova.
Entitled 'Savage Beauty', the exhibition is an expanded version of the 2011 show at New York's Met, which drew hundreds of thousands of visitors and became one of the most popular in the museum's history.
Behind the extraordinary creative talent was a tortured man with a dark personal life, who shunned the limelight and turned down most interview requests.
McQueen is credited with helping spark a renaissance in London fashion after the long-dormant period that followed the punk explosion of the Seventies.
His catwalk shows were more than that, they were performances and were often the highlight of major fashion events.
"Because of his storytelling ability, because his catwalk presentations weren't just about showing clothes, they were presenting an elaborate narrative that was sometimes shocking but also sometimes disturbing, and yet it was linked not just to a desire to surprise and shock but to make the clothes mean something more out of the context of a catwalk presentation," said the show's curator Sonnet Stanfill.
The London exhibition features a new section focusing on McQueen's early London collections with a record 240 pieces by the designer.
With tens of thousand of advance tickets sold, the show has opened to critical acclaim. It runs at the Victoria and Albert Museum until early August.