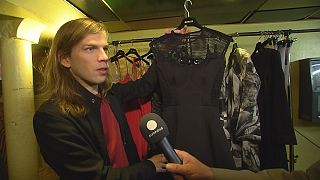 Paris Fashion Week is also a chance for newcomers to show their latest collections.
Thirty-eight-year old Christophe Guillarmé has always had a soft spot for Glam Rock and the great Hollywood divas. That's where he drew inspiration for the upcoming autumn-winter season.
"I called this collection 'Black Orchid' in reference to Martin Ritt's 1950's classic starring Sophia Loren," he told euronews. "For me, obviously, Sophia Loren is an icon from that era and I wanted to combine that retro feel with something a bit more contemporary and modern."
"So I worked with neoprene for these 1950's style dresses, which are revisited by using a contemporary material like neoprene. You can see we cut out shapes in the dress using lazer, so we're playing with transparency. By using lazer, you get something that's very close to a doily or an old-fashioned lace motif. If it were done by hand, you wouldn't get such a regular pattern," he explained.
After graduating from the Duperré College of Applied Arts in Paris, Christophe Guillarmé trained with some of the great names in haute couture like Jean-Charles de Castelbajac, before launching his first collection at the age of 21.
The young designer, who has started making a name for himself on the Cannes Film Festival red carpet and at fashion events around the world, went for a vintage mix of Old Hollywood and Dolce Vita glamour for his upcoming autumn-winter collection.
Models took to the catwalk in glamorous evening gowns, in shades of black, white red and dark fuchsia. Hand-made details in black lace and crystal rhinestone completed the dresses' elaborate busts with golden shades on tulle and lace.