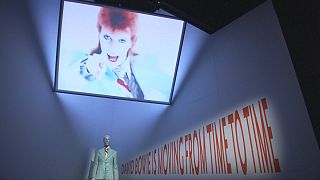 After its successful stint at the Victoria and Albert Museum in London, an exhibition spanning five decades of the life and career of David Bowie is now open in Paris.
The rock legend's career is hard to define and even harder to contain. His creativity and outlandish style, which transcend language and culture, turned him into a global phenomenon, says one of the show's curators, Victoria Broackes.
"There are so many levels of the David Bowie story. One one hand you've got somebody who came from a very ordinary background and is now a superstar and has had his ups and downs along the way and there's something, quite sort of Shakespearean about that story. But equally, you've got fantastic music and the visual, which takes in aspects of European culture – not just European, but also Japanese and beyond," she says.
Featuring more than 300 objects including handwritten lyrics, original costumes, photographs and rare original performance material, the show is a true multi-media experience. Each visitor is given a headset to listen to Bowie songs and interviews.
"The idea is that you wear the headphones, you don't have to do anything, they follow you where you are, but it creates this very immersive experience which was really important to us. Because of course Bowie is not just about a collection of artefacts and objects and the music, it's also an emotional thing, it's vitally an emotional thing. And we wanted people to feel, as well as learn things and look at things, as they went round," says Broackes.
'David Bowie is' will stay at The Philharmonie in Paris until the end of May, after which it will continue its world tour to Australia and The Netherlands.