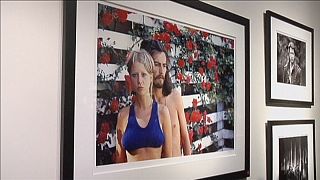 Better known as "rock'n'roll's greatest muse"http://www.sfweekly.com/shookdown/2015/02/10/rock-n-roll-muse-pattie-boyd-offers-new-look-at-60s-icons-in-like-a-rainbow, Pattie Boyd is offering an unprecedented look into the private lives of two of the world's most famous guitarists in a new photo exhibition.
The former wife of George Harrison and Eric Clapton, Boyd picked up the camera as she travelled the world with her husbands.
"All photographs are taken with film. Film, not digital. And they just happen to be photographs I took when I was with George and with Eric, and a lot of the time I met so many of their friends – our friends – who were also musicians, and if I saw something that I really liked then I couldn't resist taking a photograph," says Boyd.
Married to Harrison from 1966 to 1977, Boyd was the inspiration for the Beatles' hit 'Something'. Clapton, a friend of Harrison's, declared his love for Boyd while she and Harrison were still married. The song 'Layla' was inspired by his love for her. The couple married in 1979 but have since divorced.
"I'm really lucky, I'm seriously lucky to have had so many beautiful songs written for me. I really am, I really appreciate it. And I still get a little tingle when I hear them," says Boyd.
Entitled 'Like a Rainbow', the exhibition which features some 40 photographs as well as the original art piece that inspired the album cover for 'Layla', is on show at the San Francisco Art Exchange until 15 March.