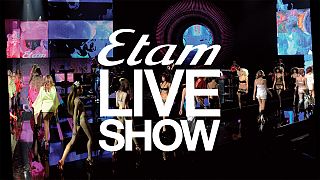 Watch the 8th edition of the Etam Fashion Show during Paris Fashion Week, live on euronews.
On March 3, 2015, Etam will open the Paris Fashion Week with the sexiest show of the year.
Special guest Snoop Dogg will perform during the show and will be accompanied by other exciting musical artists: The Ting tings, Major Lazer, The Avener & Phoebe Kildeer and the Short Straws, Lily Wood and the Pricks.
Get ready for five fashion themes and a highly inspired collection signed by the brand's muse, Natalia Vodianova.
Don't miss anything! Watch the show live in the player above. Be sure to follow and use #Etamliveshow on Twitter to join the conversation and see what's going on backstage.
With the Social Wall section, be a part of the event by sharing your opinions. Make sure you join the Etam live show Facebook event for a chance to win tickets to see the show yourself.