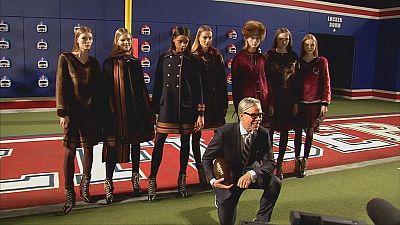 Veteran designer Tommy Hilfiger scored a touchdown on Monday (February 16) as he showcase his football inspired Autumn/Winter 2015 collection at New York Fashion Week.
These girls got game. Thanks for a great show – TH #NYFW#TommyFall15pic.twitter.com/KjO9xVT28S

— Tommy Hilfiger (@TommyHilfiger) February 17, 2015
The Tommy Hilfiger Corporation marks 30 years in business this year, which its founder said was a perfect time to celebrate its American roots.
"I would tell you that I have always been inspired by sports, and I wanted mix sports with luxe. Because I think that is how people want to dress today. And I wanted to celebrate the idea that we are very American as a brand and we like to have fun, we like to have to have spirit, we like to have a healthy, I would say spirited look."
While taking his cue from the football field, Hilfiger stayed true to his signature preppy style of plaid, duffle coats and pleated skirts with a 70's twist. Models, that included star players such as Gigi Hadid, Liu Wen and Jourdan Dunn strutted down the runway in lambskin jersey dresses and oversized capes.
"It's about vintage football" A post-show interview with TommyHilfiger</a> <a href="http://t.co/S8AD10lF7T">http://t.co/S8AD10lF7T</a> <a href="http://t.co/K1wO1VThIA">pic.twitter.com/K1wO1VThIA</a></p>&mdash; Vogue.fr (VogueParis) February 17, 2015
The 63-year-old described how he mixed luxury fabrics – cashmere, mohair, alpaca, silk, shearling, and fake fur – with football boots to give an athletic twist.
After going public in 1992.Tommy Hilfiger is now a succesful lifestyle brand manufacturing men's and women's wear, fragrances and home products.
Off the field Hilfiger's star-studded front row included British musician Rita Ora, New York Giants receiver Victor Cruz and Chinese model Zhao Lei.
Our favorite fashion forwards on the front row at #TommyFall15#NYFWpic.twitter.com/En3twOmcPZ

— Tommy Hilfiger (@TommyHilfiger) February 18, 2015
Donna Karna's New York City
never ceases to inspire. For the Autumn/Winter season, she interpreted the city's towering architecture into sculpted origami designs and offered sparkly gold lame worthy of a really great party.
"You know, it's always an inspiration for me. New York for me means the world. It's not about New York, and it's about where women are at today, their chaos of life they live. And it's my job to dress and address the issues that they need."
In metallic brocades and gun metal silk, Karan's signature line did the city's skyline justice with geometric planes of fabric that flowed loosely on dresses and coats. Touches of organza danced down the runway against her backdrop of the city at night.
The collection was a mixture of fabrics, asymmetrical cuts and loose garments. The color palette didn't stray from classic cold weather staples of beige, black and grey and was punctuated in places by splashes of turquoise, purple and red.
The line is for the woman on the move that needs a versatile wardrobe for her day to day life.
a href="http://www.nytimes.com/interactive/projects/cp/inside-fashion-week/fall-2015" rel="external">More on NY Fashion Week from the New York Times==
From Anna Kendrick at the Golden Globe Awards to Julia Louis-Dreyfus at the Screen Actors Guild, celebrities are showing the love for designer Monique Lhuillier.
While Lhuillier has had many recent wow moments on the red carpet, she says dressing the first lady Michelle Obama is one she will never forget.
For her Autumn/Winter collection, the Philippines-born designer explored her darker, more sensual side with silky, rich jewel tones, sparkling metallics, lace details, sheer inlays and intricate beadwork.
See how M_Lhuillier</a> unleashes her inner glamour girl for <a href="https://twitter.com/hashtag/FW15?src=hash">#FW15</a> <a href="https://twitter.com/hashtag/NYFW?src=hash">#NYFW</a> <a href="http://t.co/zPKKAnjr4o">http://t.co/zPKKAnjr4o</a> <a href="https://twitter.com/hashtag/SaksAtTheShows?src=hash">#SaksAtTheShows</a> <a href="http://t.co/7hwYcNcO8k">pic.twitter.com/7hwYcNcO8k</a></p>&mdash; Saks Fifth Avenue (saks) February 17, 2015
She also debuted her accessories line, which included strappy heels and shiny clutches.
a href="http://la-confidential-magazine.com/style/articles/monique-lhuillier-talks-red-carpet-dressing" rel="external">More on Monique Lhuillier's red carpet dressing from LA Confidential==