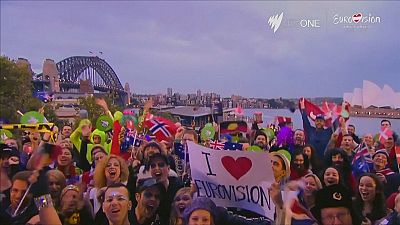 It's a first in the Eurovision song contest's 60-year history: Australia is being invited to partake following its guest performance at last year's event.
Australian television presenter Julia Zemiro will be co-hosting this year's event and she announced the news in true Eurovision style:
"Hello, bonjour, Guten Tag, I'm Julia Zemiro and I've got some very exciting news to share with you: This year at the Eurovision Song Contest in Vienna, Autralia will be competing in the grand final! Our song and artist will be revealed very shortly. Can you guess who it will be?"
Let's give it a try…
Aussies Olivia Newton John and Gina G represented the UK in 1974 and 1996 respectively. Pop diva Kylie Minogue is obviously top of list, but there's also boyband 5 Seconds of Summer, and the name of Midnight Oil has even been touted.
Australia has until March 16 to find its contender, whose aim will be emulate last year's winner, Austrian drag queen Conchita Wurst.
Including Australia in the competition is a special, one-off move designed to celebrate the Eurovision Song Contest's 60th anniversary in line with this year's theme of 'Building Bridges'.
Owing to the special nature of Australia's inclusion, they will be fast-tracked past the semi-finals and go straight to the Grand Final.
The Eurovision song contest Grand Final takes place on 23rd May in Vienna and is expected to attract some 200 million viewers around the world.