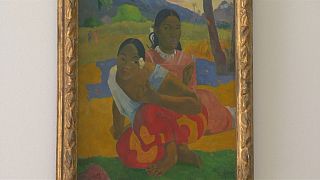 If ever you needed one, here is one extra reason for visiting what is now a unique Paul Gauguin exhibition dedicated to the post-impressionist painter near Basel.
It's a last chance to see 'Nafea Faa Ipoipo' or 'When Will You Marry?', a painting of two Tahitian women by the French artist, which has just broken the record for most the expensive work of art ever sold, after being snapped up for a staggering $300 million.
The identity of the buyer was not revealed but speculation is rife that the masterpiece will follow the previous record-holder, Cézanne's 'The Card Players', to Qatar.
Gauguin's groundbreaking paintings have become icons of modern art and are some of the most significant and valuable cultural treasures in the world. With their luminous colours and elementary forms, they revolutionised art and still entrance viewers today.
"It was an emotion to have it here, and now it's also, of course, kind of an emotion to know that it will leave, but, yes, as I said, it's great and we are honoured that we are perhaps one of the last museums that will be able to present it in a public context," said Raphael Bouvier, curator of the Fondation Beyeler exhibition in Basel.
Reactions among visitors to the show were swift: "Unbelievable," said Martin Browne. "But that doesn't tell you how good the painting itself is. It is a wonderful painting. It's very poignant, and it really shows the features, the really strong faces of these people. Very interesting, yes."
Painted in 1892 on Gauguin's first visit to Tahiti, the artwork had been the property of a Swiss family for almost a century.
The Kunstmuseum Basel, where the painting had been on loan for decades, said it regretted the sale and the Staehelin Family Trust's decision to withdraw other works loaned to its collection.
After leaving the Fondation Beyeler in Riehen near Basel, the painting will go on show in Madrid and Washington before settling in its permanent home at the end of the year.