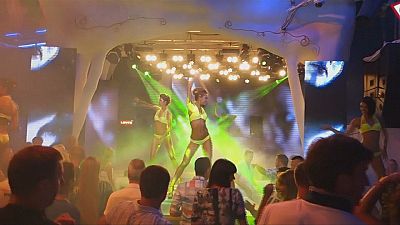 Meet Vladimir Putin's favourite DJ.
Alex Mamonov, a.k.a. DJ Fenix, is the hottest electronic dance music DJ in Russia today.
More than a decade into his career, he has played at some of the biggest clubs in Europe and shared the stage with global celebrities like David Guetta and Bob Sinclar.
Last November, he was handpicked by the Kremlin to produce an anthem for the Musicbox Awards, which are aimed at celebrating music from the former Soviet states.
"They said 'Ok Alex, maybe we can try to do something with deejaying in the Kremlin, what do you think?' I said, 'It's a very good idea.' And we started to create this idea and I wrote an official anthem for the awards," he explains.
The son of a military officer, he played volleyball at a professional level before becoming a DJ and says sport was important in teaching him discipline.
Fenix is part of a new generation of DJs on Russia's emerging EDM (electronic dance music) scene.
"Ten years ago, we had many artists from America and Europe. But now it's serious. It's not just one big club that has money and brings in DJs. It's a serious industry. And very serious record companies work for this industry as well as promoters, TV channels, radios. Now, if you say, 'I'm a DJ', everybody understands it. But ten years ago, people said, 'What, who?'."
After making a name for himself in Europe, the Russian DJ is on his way to conquer crowds stateside after wrapping up his first tour of the Big Apple with with back to back sold-out shows. He'll be returning to Manhattan later this month to perform at the New York Fashion Week.
DJ Fenix's new track, 'Cozmo Zoo' is due out this month.