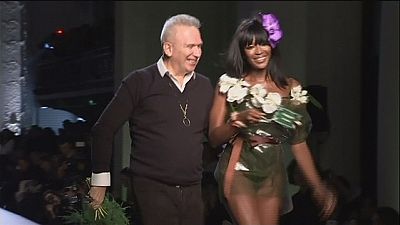 American burlesque artist Dita Von Teese, French legend Catherine Deneuve and Austrian drag queen Conchita Wurst were among the guests who turned up for the Jean Paul Gaultier show at Paris Fashion Week.
"I love him, because he's such a nice person and I'm honored to be now one of his friends. And this is just incredible, and of course I love his fashion," said Conchita Wurst.
As wedding bells rang, the first model appeared in a haze of white smoke, wearing a humorous headpiece referring to the traditional French wedding cake made of layered cream puffs.
Gaultier, who now solely focuses on Couture, having stopped doing ready-to-wear, had fun creating and naming each outfit. From 'Serial bride' to 'My best friend's wedding' or 'Confessions of a married woman', this was not your typical mermaid gown.
There were gasps when one model wearing a beekeepers hat failed to see the end of the runway and fell off – before making her way back down the catwalk to cheers from the audience, before British supermodel Naomi Campbell closed the show in a barely-there floral creation that flattered her toned silhouette.
It was a strong couture collection from Valentino's Maria Grazia Chiuri and Pierpaolo Piccioli, that moved gracefully from the geometric embroideries of Hungarian styles to dreamy outfits in bright colours inspired by Russian artist Marc Chagall.
The highlight of the show was the final flourish of embroidered gowns, in the traditional flowing silks and silhouettes of the Renaissance.
Elie Saab's show was reminiscent of a tropical paradise infused with nostalgia.
Transforming the Chaillot theatre concert hall into an olive tree garden, the Lebanese designer paid homage to the Beirut of his childhood, back when the Lebanese capital was known as the "Paris of the Middle East".
An Oscar season favourite, Saab delivered one shimmering gown after the other, offering evening wear embellished with elaborate embroidery and feathers in soft colours of powder beige, pink and green – which will doubtless light up the red carpets in the coming months.