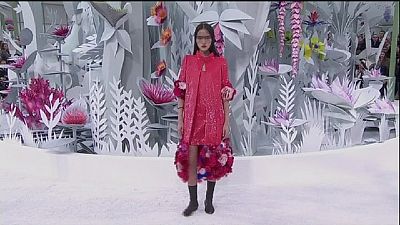 A host of celebrities including actresses Vanessa Paradis and Kirsten Stewart turned up for Paris Fashion Week's must-see Chanel show at the Grand Palais.
Guests walked into a garden of giant origami tropical flowers in a typically extravagant show infused with Karl Lagerfeld's signature touch of humour as gardeners watered the plants helping them bloom into colour.
The outfits were youthful, floral and fresh, in eye-popping shades of fuschia, electric blue, tangerine and canary yellow.
In all, it took six months to create the hundreds of flowers used in the collection, with the train of the show-stopping wedding dress alone requiring the work of 15 couturiers a month.
"Most of the time Chanel is black and white, beige and pastel colors. So suddenly, I felt the need for some bright colors. It's in the air, you know, fashion is like this, you don't know why, you only know how," said Karl Lagerfeld.
The Armani Prive 2015 spring-summer collection had a resolutely Oriental twist and was appropriately held at the Palais de Tokyo museum in the French capital.
Giorgio Armani's 68-piece collection featured prints in delicate structures, with models draped in silk and beaded materials walking down a bamboo-lined catwalk. Glittering nude fabrics offset the Chinese sashes and bamboo motifs.
The zen atmosphere carried through the evening wear, with darker pieces still playing the Oriental card with an added touch of sparkle.
Silk and lace adorned the bodies and bikinis which took to the runway at La Perla's Atelier Collection runway show.
The unmistakable message here was the activewear influence in a collection featuring a series of neoprene all-in-ones.
Organza and tulle underwear was worn as outerwear, and boudoir robes with exposed back panels doubled as warm-up jackets.
Former top model Naomi Campbell rounded off the show in a backless silk and lace hooded robe, with matching wide-leg pants worn over a tulle bra and briefs.