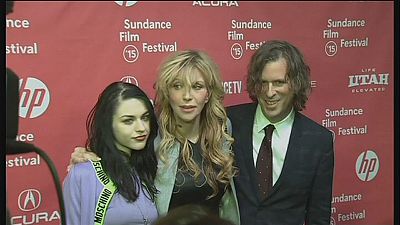 They may be small in budget but independent films are getting more and more attention, and that was the original goal of the Sundance Film Festival when it was launched back in 1978: to offer an alternative to big bucks Hollywood productions.
This edition saw the screening of a new documentary about Nirvana's iconic frontman Kurt Cobain, who shot himself in 1994. His widow, Courtney Love, and his daughter, who executive produced the project, attended the film's screening.
It was also a chance for US actor James Franco to meet Hollywood actor and producer Brad Pitt, a vocal supporter of indie films, who produced Franco's latest movie, 'True Story'.
Based indeed on a true story, it takes a look at the relationship between Christian Longo, a convicted murderer who killed his wife and children, and investigative journalist Michael Finkel. For years, Longo lived outside the US using Finkel's name. The pair strike up a relationship when Finkel goes to meet Longo in jail and decide to write a book together.
French actor Vincent Cassel's latest movie also premiered at Sundance. 'Partisan' is the feature debut of Australian director Ariel Kleiman, who picked up the Grand Jury Prize for his short film 'Deeper Than Yesterday' at Sundance in 2011.
Based on an a true story about child assassins in Colombia, the movie is set in an unnamed, decaying urban environment. Gregori, played by Vincent Cassel, heads a cult in an isolated compound, where he lives with several women and their children, and trains the kids to kill.
The movie received critical acclaim at Sundance with one review calling it "a film that marks the arrival of a filmmaker to watch" and another describing it as "an intelligent, superbly acted and original drama".