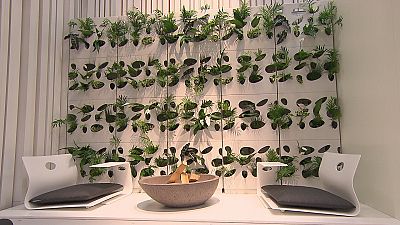 The latest furniture and interior design trends are on display at the International Furniture Fair in Cologne, Germany.
Among thousands of items being presented, visitors can find a fridge that sends a photo to your phone each time the door is opened. It also suggests dinner and food shopping ideas.
Or, a new take on an extractor fan, which removes the smell and the grease from right next to your frying pan.
Consumers are always open to new ideas and techniques. However, the main trend is rediscovering traditional values, such as comfort, as Ursula Geismann, a Trend Expert at the German Furniture Industry Federation (VDM), explained.
"People experience these fast-moving times on the Internet. Upgrades are annoying – everyone is looking for the familiar, the tried and tested."
Reupholstered chairs, with a trendy twist, for example. The aptly named company 'Second Life' re-works old fur treasures into modern, tailor-made objects.
Dirk Uwe Klaas, CEO of VDM enlarged on the popularity of this particular popular style.
"There is a trend for finding beauty in the objects of yesteryear, which now return in new guises. So, the old classics are reinterpreted for the 21st-century consumer."
Nature is playing an increasingly important role in 2015. Flowery wallpaper, made of moss can be found at the Fair. Other natural materials, such as metal, stone and wood are also popular.
In Germany, the furniture industry has been back on course for growth since 2014.
More than 150,000 visitors from all over the world are expected to attend the trade show. They will see over 100,000 furniture and interior design articles, of which a third are world premieres.
The International Furniture Fair ends on January 25, 2015.