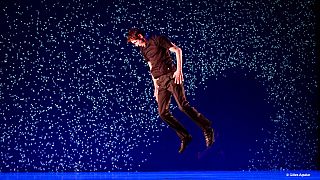 'Pixel', a show that transforms notions of time, space and movement, illuminated the stage of la Maison de la Danse in Mourad Merzouki's native Lyon.
A French choreographer and the founder of 'Compagnie Käfig' together with digital artists Adrien Mondot and Claire Bardainne created a performance that subtly intermingles a theatre play with the light show of a rock concert and something close to a black-and-white silent film.
Merzouki explains that he wanted "a synthetic world where the body of a dancer meets and talks with a digital projection."
Pixel goes far beyond that; it unobtrusively offers a new philosophy of dance.
Why worry about the size of a stage if it can be visually widened with the help of … light! The world of Pixel is so elastic it closely plays along with every movement of the dancers. There is nothing that can't happen on the stage: we see walls grow, the floor crack and waves roll.
The stage becomes a melting pot of styles, where Tecktonik is followed by acrobatics with a hula-hoop, while classic hip-hop coexists peacefully with roller skating or contemporary dance.
Scenery is obsolete. In the world of Pixel, the light draws the rain, while constellations are assembled from small 'pixels' scattered on the floor. Throughout the show dancers struggle through the storm, jump over rocks and smash grids. It all looks so real that, in defiance of our own senses, we do not expect to find a clean and empty stage at the end of the show.
Music intertwines with dance in such a way that it stays unnoticed until the moment its steep acceleration indicates a scene change.
The last (but not least) thing Merzouki teaches us about dance is not to follow any rules, but to create exceptions.