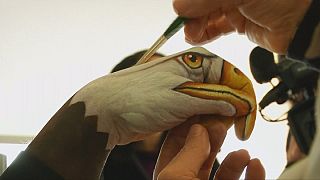 In the hands of Italian artist Guido Daniele, body painting takes on a unique form.
Using the human hand as a canvas, he creates detailed, life-like animals.
He calls his creations 'Handimals', fusing the words 'hand' and animal'.
It's this 64-year-old's way of drawing attention to the plight of endangered species'.
"Animals on the hands means 'give a hand to the animal'," said Daniele.
"Give a hand to the protection of the animals. We must be positive. The artists, they have a chance to give a message with his art. And the message for me is protect the nature, protect the life, don't destroy. So I do my research. I give my message for my life and after that I can do nothing more."
Daniele's work is making its US debut at the 'Top of the Rock' observation deck at Rockefeller Center.
He only has a one-day timeframe per painting. Once finished, photos are taken and then exhibited.
Normal paints contain poisonous elements, which are harmful to the human skin. So, Daniele uses a special product.
"I use make-up colours," he explained. "Make-up colours for Japanese theatre is a natural powder with water, without glue. And this color, they stay a few hours. So I must do the job in one day. So even the more complicated, they must be painted in six hours, eight hours, 10 hours, not more because after that I have to shoot and the day is finished."
The 'Handimals' exhibition consists of some 24 large-scale photographs. It can be seen at Rockefeller Center, New York, until January 25, 2015.