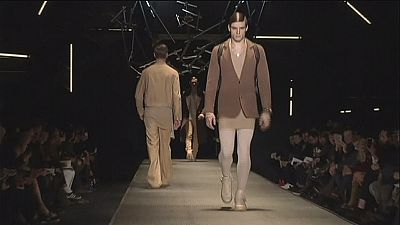 World-leading menswear labels have gathered in Milan to present their autumn/winter collections at Fashion Week.
Taking place from January 17 to 20, 2015, it's an important event in the fashion calendar.
Versace
Donatella Versace's collection for men had an unapologetically warm and cuddly core: cashmere knitwear, fitted knit leggings and bulky cable-knit cardigans could all be seen on her catwalk.
And the revolution didn't stop there. Gone were the usual heavy Versace accents. An abundance of simple colours was on display and a new jacket was unveiled: a shorter cut, with constructed shoulders and a plain, horizontal clasp.
Leather sneakers finished off the looks.
Dolce and Gabbana
Designer duo Domenico Dolce and Stefano Gabbana sent their models down the runway in front of a family tableau – a multi-generational living portrait reflecting both modern and traditional dress.
The idea of family was reflected in the designs, with t-shirts bearing images of family groups and sweaters emblazoned with the words 'amore per sempre': 'love forever'.
Slimly tailored classic suits appeared alongside the traditional house velvet jackets, while bold patterns broke up a colour palette of black, grey and claret.
Vivienne Westwood
'Buy less, choose well, make it last': that's the motto Vivienne Westowwd hopes to inspire with her designs.
Westwood says her Milan autumn/winter collection looked to Prince Charles for inspiration.
The collection is open-minded and unexpected, with Prince Charles' face printed on some t-shirts.
The English designer used unisex fashions to further her message, implementing the idea that men and women can borrow each other's clothes. It's typically eccentric of the label.
To match the mood, the make up was androgynous.
The pieces were fun and equally theatrical. Wools featured in new shapes and colours and we saw new ways of assembling layers.