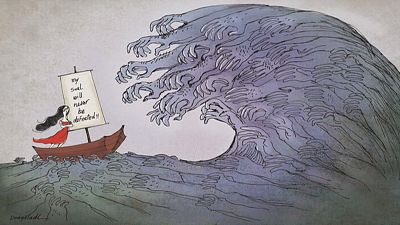 "Cartooning for Peace" is an annual event that rewards cartoonists for their work.
Last year's prize went to Palestinian-Syrian and Egyptian cartoonists Hani Abbas and Doaa Eladl.
Former UN Secretary General Kofi Annan announced the winners in Geneva on World Press Freedom Day:
"The 'Cartooning for Peace' prize recognises those who commit their voices and artistic talent to the cause of peace and tolerance and who use a universal language of images to inform and educate and celebrate our common humanity," he said.
Doaa Eladl, who couldn't attend the ceremony, is a celebrated female artist in the Arab world, famous for her political commitment. She has often tackled women's right issues, attracting controversy and even been charged with blasphemy for her work.
Many of Hani Abbas' colleagues have been tortured or killed in Syria. He himself was arrested and threatened repeatedly because of his satirical cartoons that bore testimony to the atrocities committed by the Assad regime. Abbas fled Syria and is now a political refugee in Switzerland.
"This prize is not just for me but for everyone who expresses their opinion, for all the journalists and intellectuals in Syria who face grave danger – because of what they draw, because they speak out or express themselves freely," he told euronews.
Also celebrating freedom of expression, the World Press Cartoon, widely recognised as the world's best cartoons meeting point.
Winners of the 2014 edition included two Indian cartoonists in the Caricature and Grand Prix sections, and Croatian and Albanian artists in the Gag and Edition sections.
Events that all pay homage to the brave commitment and courage of political cartoonists around the world.