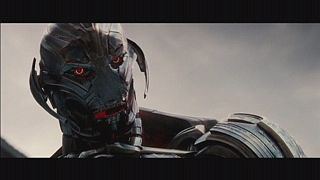 'Into the Woods' is a Disney adaptation of Stephen Sondheim's award-winning musical.
With a star-studded cast including Meryl Streep, James Corden, Johnny Depp, Emily Blunt and Chris Pine, it offers a fresh take on a story with roots in four world-famous Brothers Grimm fairy tales.
Already out in the some countries including the US and Russia, 'Into the Woods' is on worldwide release this month.
2015 also brings the long-awaited sci-fi movie 'Chappie' by Neill Blomkamp.
Every child comes into the world full of promise, and none more so than Chappie, a super-gifted robot, designed to learn and feel.
Kidnapped by gangsters, the prodigy robot becomes the adopted son of a strange, dysfunctional family.
Starring Hugh Jackman, Sigourney Weaver and Dev Patel, 'Chappie' will be on global release in March.
Lily James is Cinderella in Kenneth Brannagh's new adaptation of the classic fairy tale about a servant step-daughter who wins the heart of a prince.
The film also stars Cate Blanchett as Lady Tremaine, Hayley Atwell as Cinderella's Mother and Helena Bonham Carter in the role of the Fairy Godmother.
After premiering at the Berlin Film Festival in February, it will be on global release from March. And fans will soon be able to see the highly expected sequel of the Marvel Studios' super hero flick 'The Avengers', also due out this spring.
When Tony Stark tries to jump start a dormant peacekeeping program, things go awry and Earth's Mightiest Heroes are put to the ultimate test as the fate of the planet hangs in the balance.
Directed by Joss Whedon, the film features an A-list cast including Scarlett Johansson, Chris Hemsworth, Chris Evans and Robert Downey Jr.
'Avengers: Age of Ultron' is out in April.