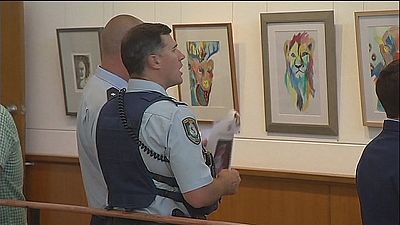 Police officers in Australia have been swapping guns and handcuffs for a canvas and a paintbrush.
For the fourth year running, the Wollongong Art Gallery in New South Wales has hosted an unusual exhibition featuring the works of law enforcement officers.
This year's show was dedicated to Sabine Altmann, a domestic violence worker killed in a car crash in 2011.
"I suppose art and police, you might think, don't go together," said Police Deputy Commissioner Jeff Loy. "But it also is very significant in relation to her work as a domestic violence officer. She was actually very fearless, and in fact very fierce in relation to her work that she did for the people who suffered from domestic violence."
Sergeant Tony Di Matteo is one of the officers whose work is on display: "There was a fire in Bankstown where a couple of Asian students lost their lives," he said. "And I was assistant on the ground floor. And I questioned myself – if I would have gone there a bit earlier, could I have helped?"
The New South Wales Police Force is Australia's oldest and largest police organisation and one of the biggest in the English-speaking world.
Entitled 'Shades of Blue', The exhibition was held in conjunction with the White Ribbon Day Campaign to stop domestic violence against women.
"Our police are talented in many areas and it's no surprise to me that the standard of the painting here today is sensational," said Jeff Loy.
This year's exhibition featured 40 artworks by 22 artists. Some of the paintings were sold with part of the proceeds going to the New South Wales Police Legacy charity.