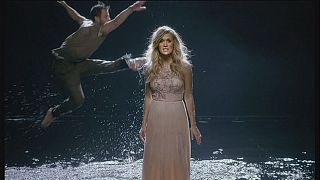 Ten years after winning 'American Idol', Carrie Underwood wanted to give fans something special to mark her first decade as a country music star.
'Greatest Hits: Decade #1' features all 18 of the Grammy-winning artist's number one singles, as well as two new songs, including her latest crossover hit 'Something In the Water'.
"I definitely feel very connected to 'Something In the Water.' There really was this kind of magic that was happening in the room the day that we were writing it. I feel like I get a little piece of it every time I sing it. It makes me happy to sing. Everything – the music, the lyrics, the choir – everything coming together, it just allows me to be just a joyful, happy person singing a song that I love," she says.
Underwood, who is expecting her first child with hockey player husband Mike Fisher, decided to also give fans previously unreleased work tape versions of her hits.
"I was really looking for special things to put on this greatest hits album. You try to think, 'Should we do an acoustic thing? Should we look for…?' And then I was like, 'Why not do work tapes?' We sit there and that's the most raw and real that we ever are," says Underwood.
"I think it gives my fans, the people that have been with me for these 10 years, they see the polished stuff that we work on and perfect, that's what they see and that's what they hear, but it's really nice I think for them to hear how it all started."
The multi award winning singer-songwriter, who counts six Grammys to her name, is one of the biggest album selling artists of her generation with 64 million records sold around the world.