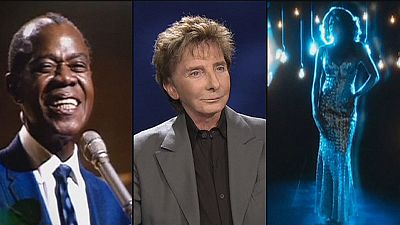 The powerful voice of Whitney Houston has been brought back to life in Barry Manilow's new album of duets.
I think that out of all the duets on this album, Judy (Garland) and I sound the best together
The 71-year-old crooner is ensuring the iconic voices of many of his deceased musical idols live on, through the wonders of modern technology.
He has re-orchestrated the singers' original musical arrangements while recording his own track.
"It was very emotional. Because really it was their voices without any echo on it, without any processing. It sounded like they were right, standing right next to me," he said.
"Each one of these singers has something very unique about them. That's why they were such legends. Each one of them had that little extra something that made you listen a little closer than all, all the other singers," he added.
The album, 'My Dream Duets', features Manilow singing along with the likes of Whitney Houston, John Denver, Louis Armstrong and Judy Garland.
"I think that out of all the duets on this album, Judy and I sound the best together," Manilow gushed. "I do, I think we sound great together. I didn't have to learn how to sing with her, because I did when I sang with Dusty Springfield, because she has this kind of wispy voice, you know, but with Judy I could just belt!"
Manilow hasn't yet decided if he'll tour off the back of the new album. But he has put together a series of music videos featuring the late entertainers to play on stage if he does hit the road.