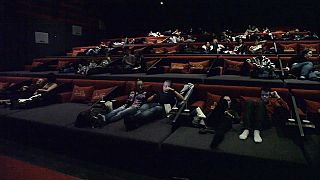 Take off your shoes and make yourself comfortable – the first ever bed cinema has opened its doors in Budapest.
It's part of a refurbishment project in a disused shopping centre in the Hungarian capital, which will also house cafés and restaurants as well as a VIP club and a cocktail bar.
"If people like to put up their legs up in front of the TV at home, with a pillow under their head, but find the TV screen too small, and want to enjoy a top of the range sound and light experience on a big screen – that is what we can offer," says László Jankura, director of the Buda Entertainment and Gastro complex.
"It's just started, so we hope that the beds are still quite clean," says one cinema-goer.
Other recreational facilities in the complex include a folklore hall and an art & craft market.
The programme at the new cinema theatre doesn't include any movie premieres to start with. Instead, movie-goers will be able to enjoy classics, ranging from family-friendly films in the afternoon, to comedies and dramas in the evening, and horror flicks at the late night screenings.
The danger with such a comfortable setting is the same as the one you face at home: "I think it depends on the movie, if a film is boring, you can fall asleep. I liked it," says one first-time visitor.
Tickets for a whole bed cost around 18 euros, fitting two adults and two kids.