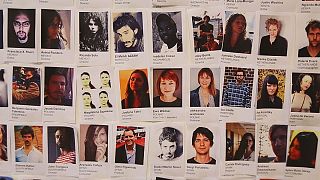 Berlin hosts one of the most important film festivals in the world. But, beyond the red carpet, there is a whole host of new stars at the Berlinale Talents.
This year, 300 privileged young professionals were chosen from around 4,000 applicants to attend 'Berlinale Talents'.
They were invited to take part in a multitude of workshops, debates and project labs in order to expand their network.
Ewa Wildner wanted to improve her skills as a film critic.
"We have to attend films, review them. Also do events, like the Berlinale Talents discussions," she said. "(Doing) interviews with the directors. Basically, a lot of work – writing and watching movies."
'Talent Press' participants receive tips and advice from mentors.
But how do you become a film critic?
"This is the kind of job that doesn't make a lot of friends," Ewa explained. "I actually didn't study anything connected to film. I'm self taught rather than having any educational background. I went to press screenings, saw movies before everyone else, wrote texts about them and sent them along with my CV."
In 2010, the film 'Shahada' brought the actress Maryam Zaree to the Berlinale film festival. Four years later, she is back to do the Acting Studio workshop.
We spoke to her about her experience.
"The great thing about 'Berlinale Talents' is that it's like school," she said. "You wake up and you have that feeling… you know, you take your school bag, and you go learn."
"We have been working with Jean-Louis Rodrigue and Kristof Konrad, who are two very renowned American coaches," continued Zaree. "What you learn is how to give variety to your characters, not to fall into the same patterns and the same habits as you've maybe done before."
Sergi Portabella has a couple of award-winning short films in his portfolio. He was part of the 'Script Station', where feature film scripts are refined with the help of experts, then shown to producers.
He spoke about his latest motion picture.
"My film is called 'Jean François and the Meaning of Life'. It's the story of a 12-year-old boy from Barcelona who finds a book by Albert Camus, decides to convert to existentialism and runs away from home to meet Camus in Paris, without knowing he died more than 50 years ago," said Portabella.
This edition of 'Berlinale Talents', supported by Creative Europe's Media programme, encouraged participants to "break the rules", as programme manager Matthijs Wouter Knol discussed.
"For us, 'Breaking the Rules' means introducing filmmakers to daring and new methods. It's about boldly questioning established structures and playfully discovering new paths and possibilities," he said.
"Each year we welcome the latest generation from the film industry. We select the 300 best and most ambitious of them. We are the experimental laboratory of the Berlinale. Many things can be tried and tested here. You have the space to make your own mistakes, because this is really the platform for trying new things."
"If you're trying to make your project come to life and you're looking for a producer, sound designer or actor you will meet those people here," he added.
Portabella agreed with Wouter Knol.
He said: "You get to know people from all over the world who are doing the same thing as you. Whether or not you end up working with them, it's always a very enriching experience on a personal level."
The Generation Y stories continue on our social media pages.