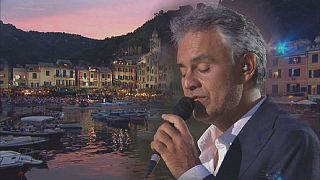 A global entertainment phenomenon, a mega-star tenor, a crossover champion – Andrea Bocelli is all of these and much more. With sales exceeding 80 million records, he's the best-selling artist in the history of classical music.
Musica met him in Tuscany, in the city of Lucca, where he gave a short but intense recital for the opening of a UNESCO conference.
Bocelli is not only a versatile opera singer and a world famous pop star, he's also a passionate, committed humanist: in 2011, he set up his own foundation. Its aims are multiple:
"Fighting poverty, first and foremost. Then there are several ad hoc projects aimed at improving living conditions for the less fortunate. In particular, we have financed a project with the MIT in Boston, and we hope to develop devices that will allow visually impaired people to overcome their blindness," Bocelli told us.
Despite travelling the world for his art, Andrea Bocelli enjoys nowhere better than home:
"I'm deeply attached to my country, my roots, my language, my friends… Italy in general. So when I'm abroad, I miss all of that," he says.
The tenor has great faith in his art:
"'Cato the Younger'" used to say: 'There will be trouble if you teach soldiers to read, or if you teach them to appreciate music, because they will forget the art of warfare', which says a lot of the ability of art and culture in general to make our society less violent and more aware," he says.
To those who criticise some of his musical choices, this is what Bocelli has to say:
"Someone who inspired me enormously and was a role model for me is opera singer Franco Corelli. When people asked him technical questions such as 'Do you consider yourself more of a dramatic tenor or a lyrico spinto tenor', he used to answer: 'I'd like to be considered just a voice'.
"The most important thing for me is to do my best and set an example as a man of good will for my children. Every day, my struggle is to try and be less attached to ephemeral things, which have no real value and which we'll leave behind, eventually."
If you want to know more about the Andrea Bocelli Foundation, please click on the following link: http://www.andreabocellifoundation.org