'NATO membership train is moving' as Hungary, Finland leaders in Turkey for talks with Erdogan
Comments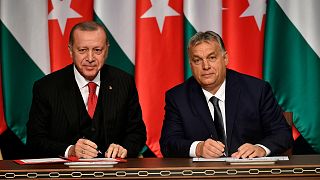 The prime minister of Hungary Victor Orbán is in Turkey on Thursday, where he is expected to meet with President Recep Tayyip Erdoğan. Officially, Orbán is attending a summit of the Organization of Turkic States, where Hungary is an observer member. 
Orbán'svisit comes the same day as Finland's President Sauli Niinistö also arrives in Turkey, purportedly to receive positive news about his country's NATO membership bid in a meeting with Erdoğan on Friday in Istanbul. 
Before leaving Helsinki, Niinistö said he had a "good conversation" with Swedish Prime Minister Ulf Kristersson. The Nordic nations are waiting for Ankara and Budapest to ratify their NATO applications, which prevent Finland and Sweden from becoming full members of the military alliance.
Hungary's parliament is set to vote on the issue next Monday 20 March, after delaying the vote numerous times previously. 
President Niinistö's visit -- the latest in a series of shuttle diplomacy trips by senior Finnish politicians aimed at shoring up support for their stalled NATO application process -- comes as Erdoğan signals that he could finally move to ratify the bid.
Asked by reporters this week about giving a green light to Finland, Erdoğan responded: "God willing, if it is for the best."
A longer statement from the Finnish president said Erdoğan indicated he wanted to meet "President to President" when there was a decision on NATO to communicate to the Finns.
"The Turks had hoped that I would be there to acknowledge the answer when they announced this decision. Of course, I accepted the invitation and will go to receive his expression of intent," Niinistö wrote.
Before going to Istanbul to meet Erdoğan on Friday, Niinistö and Foreign Minister Pekka Haavisto will first visit southeast Turkey, areas devastated by the series of earthquakes and aftershocks in February, which left tens of thousands dead and millions more needing food, water, and shelter.
The "NATO membership train [is] moving," one Finnish analyst wrote on Twitter. 
Why has Turkey delayed approval for Finland and Sweden to join NATO?
Turkey's government accuses Sweden of being too soft on groups it deems to be terror organisations and existential threats, including Kurdish groups and critics of Erdoğan. 
Ankara has said, however, that it has fewer problems with Finland's membership.
Speaking during a visit to Berlin on Wednesday, Swedish Prime Minister Ulf Kristersson noted there have been increasing signs in recent weeks that Turkey is prepared to ratify Finland's membership before Sweden's.
He said: "We are prepared for that situation as well."
"We don't hide at all that we preferred to be ratified together, to make the whole journey hand in hand," Kristersson continued. But "I've always also expressed the fact that every … country in NATO makes their own ratification decisions and we have full respect for that."
The Swedish leader said there has been "very good progress" and "we do believe … that we are ready for ratification, but we respect that only Turkey can make Turkey's decisions."
"Of course, we hope for a rapid ratification process after the Turkish election," he added. 
Erdoğan is seeking a third consecutive term in office in 14 May elections.
Turkish officials have been angered by a series of separate demonstrations in Sweden, including a protest by an anti-Islam activist who burned the Quran outside the Turkish Embassy.