NATO: Turkey says talks over Sweden and Finland's membership to resume on 9 March
Comments
By Euronews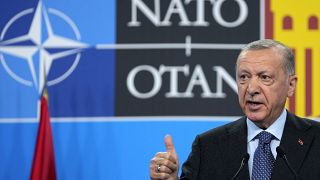 -
Copyright

AP Photo/Manu Fernandez
Turkey has agreed to discuss Sweden and Finland's membership bid with NATO. 
The two countries decided to join the security alliance after Russia invaded Ukraine on 24 February. Negotiations began last June, but were called off in January. 
Ankara has refused to ratify the two countries' NATO membership bids, primarily because Sweden has declined to extradite dozens of suspects that Ankara links to outlawed Kurdish fighters and a failed 2016 coup attempt and it has concerns regarding Swedish ties with the terrorist PKK organisation.
However, now the Turkish Foreign Minister Mevlut Cavusoglu said talks will resume from 9 March.
"I think our concerns about terrorism should be met by the two candidate countries. Such activities still continue in Sweden," explained Cavusoglu. "As the international community, we need to combat such actions. It is not possible for us to say `yes` to Sweden`s NATO membership without seeing these steps."
He made the comments at a joint news conference with his Hungarian counterpart Peter Szijjarto on Monday. Szijjarto had arrived for a solidarity visit after the devastating earthquakes.
There were several anti-Turkish and anti-Islamic demonstrations in Sweden when talks were called off last month. A far-right politician burned the Quran in Stockholm and an effigy of Turkish President Recep Tayyip Erdogan was hung outside the capital's court. These actions sparked uproar in the Muslim community.
After the demonstrations the Turkish president said he would ratify Finland's bid to join NATO and not Sweden.
But NATO has said it would be better for Finland to join NATO at the same time as Sweden because of the strategic location of the two countries.
Less than a fortnight ago, NATO Secretary General Jens Stoltenberg was in Ankara where he stressed the importance of integrating Finland and Sweden into the security Alliance. 
He reiterated his claim that Sweden and Finland have done enough to satisfy Ankara's demands that they crack down on extremism.