Biden commemorates Bloody Sunday in Selma
Comments
By Euronews, AP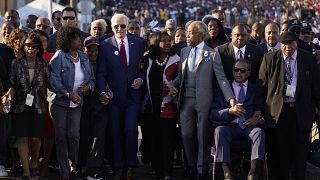 -
Copyright

Patrick Semansky/Copyright 2023 The AP. All rights reserved.
President Joe Biden made a fresh call on Sunday for new voting protections in remarks in Selma, Alabama, to commemorate the 58th anniversary of the landmark "Bloody Sunday" march, which galvanized the civil rights movement and helped lead to an expansion of voting rights.
"The right to vote, to have your vote counted is the threshold of democracy and liberty," Biden said near the Edmund Pettus Bridge, where on March 7, 1965, a group of civil rights marchers were beaten by White state troopers as they attempted to cross.
"This fundamental right remains under assault. Conservative Supreme Court has gutted the Voting Rights Act over the years. Since the 2020 election, a wave of states (has passed) dozens, dozens of anti-voting laws fueled by the big lie," he added, referring to the false claim that the 2020 presidential election was fraudulent.
Biden's stop in Selma came as he and fellow Democrats have struggled to pass their own sweeping voting rights measures, with dim prospects of passage in a newly Republican-controlled House of Representatives.
Bloody Sunday commemorates the day when 600 people began a march from Selma to Montgomery, Alabama, demanding an end to discrimination in voter registration. At the Edmund Pettus Bridge, state and local lawmen attacked the marchers with billy clubs and tear gas. Seventeen people were hospitalized, and dozens more were injured by police. The events sparked outrage across the country and helped rally support behind the Voting Rights Act.
During his speech, Biden also made reference to stricter gun control measures.