Civilians flee Ukraine's Bakhmut as fighting takes place in city's streets
Comments
By Euronews with AFP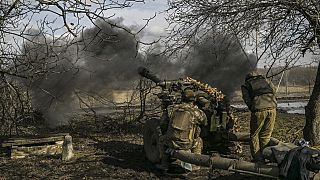 -
Copyright

ARIS MESSINIS/AFP or licensors
As fighting continues on the streets of Bakhmut in the east of Ukraine, Kyiv is racing to evacuate residents from the city as the Russian troops advance.
While it is almost surrounded by Kremlin forces, the deputy mayor says that Russia is not in control of the city.
But despite pledging to defend "fortress Bakhmut" for as long as possible, officials earlier this week warned that the situation was difficult.
For months the city has been a key target of Moscow's offensive in the east, with large forces from the private Wagner Group joining Russian troops in combat.
The official said Russian artillery has bombarded the last routes out of town, hoping to complete its encirclement.
Capturing Bakhmut would not only give Russia a rare battlefield win after months of setbacks, but it also might break Ukraine's supply lines and allow Moscow's forces to press on to other Ukrainian strongholds in the eastern region.
Meanwhile, the Kremlin said defence minister, Sergei Shoigu, has inspected a forward command post in the south Donetsk zone, without specifying the exact location, proximity to the frontline, or the date of the visit.