Scholz and Biden pledge to keep pressure on Russia, as US promises €376m in support to Ukraine
Comments
By Euronews with AP and AFP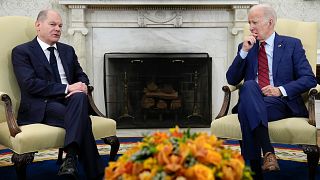 US President Joe Biden and German Chancellor Olaf Scholz vowed to maintain pressure on Russia after meeting privately in Washington on Friday.
The White House announced $400 million [€376 million] in further US assistance as their meeting began. The conversation came at a delicate moment in the conflict. Ukraine and Russia are preparing for spring offensives, meaning a steady flow of Western weapons will be important for Kyiv's success on the battlefield.
However, there are fresh concerns that public support for ongoing military assistance may be waning. In addition, US officials have warned that China could step off the sidelines and begin providing ammunition to Moscow, a decision that would change the trajectory of the war by allowing Moscow to replenish its depleted stockpiles.
China is Germany's top trading partner, and European nations have generally been more cautious than the US in taking a hard line with Beijing. However, there are signs that its position may be shifting.
In a speech to the German parliament on Thursday, Scholz called on China to "use your influence in Moscow to press for the withdrawal of Russian troops, and do not supply weapons to the aggressor Russia."
During brief public remarks on Friday, Scholz said Western allies would support Ukraine for "as long as it takes."
"This is a very, very important year because of the dangerous threat to peace that comes from Russia invading Ukraine," he said.
Washington and Berlin have worked closely on sending military and humanitarian aid to Kyiv since the war began. But they have also clashed over providing tanks to Ukraine, and Washington has occasionally grown frustrated with Berlin's hesitance.
Despite this, the pair agreed to send advanced battle tanks to Ukraine in January, offering what one expert called an "armoured punching force" to help Kyiv break combat stalemates. 
After the meeting on Friday. Biden thanked Germany for providing "critical military support" to Ukraine. 
"And I would argue, beyond the military support, the moral support you've given Ukrainians has been profound," he said.
Biden said, "Together, we worked lockstep to supply critical security assistance to Ukraine," and Scholz also described the US-German effort as "lockstep."
Moscow warns against further Western military support to Ukraine
Before the meeting, the Kremlin warned that further Western arms deliveries to Ukraine would only "prolong" the conflict.
"We note that the United States is continuing its policy of increasing arms deliveries to Ukraine and persuading its protégés to do the same," Kremlin spokesman Dmitry Peskov said when asked about the planned meeting between Biden and Scholz.
Such deliveries "will not have a decisive impact on the outcome of the offensive [in Ukraine], but it is obvious that they will prolong this conflict, with sad consequences for the Ukrainian people," he added.
And "this represents a significant burden on the economy of these countries and has a negative impact on the well-being of their citizens, including in Germany," Peskov continued.