West Bank violence: Israel beefs up troops after settler rampage in Palestinian town
Comments
By Euronews with AP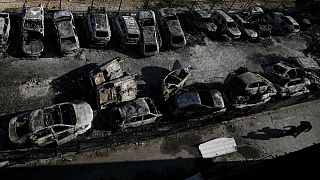 -
Copyright

AP Photo/Majdi Mohammed
Israel sent hundreds more troops to the occupied West Bank on Monday, a day after the Palestinian town of Hawara suffered the worst outbreak of Israeli settler violence in decades.
One person died, 300 were wounded, 75 homes were burned and more than 100 cars were torched when settlers rampaged through the town after a Palestinian gunman shot dead two Israeli brothers.
The aftermath has laid bare some rifts in Israel's new right-wing government. Prime Minister Benjamin Netanyahu appealed for calm, as did his defence minister Yoav Galant.
"There is no legitimacy, nor is it possible to act from the gut. It is totally forbidden that we will allow a situation in which citizens take the law into their hands. I call on everyone to follow the law and mainly to trust the IDF and security forces anywhere across the country," Galant said.
But a member of the ruling coalition praised the rampage as deterrence against Palestinian attacks. 
Speaking at a settlement outpost reoccupied by Jewish settlers after Sunday's shooting, the firebrand Public Security Minister Itamar Ben-Gvir, the leader of the Jewish Power party, called for a "real war on terrorism".
He also called for a settlement outpost near the West Bank city of Nablus to be legalised, even as Israeli troops began removing settlers who had camped there following Sunday's shooting. The outpost had previously been evacuated.
Sunday's events kicked off when a Palestinian gunman shot and killed brothers Hillel and Yagel Yaniv, ages 21 and 19, from the Jewish settlement of Har Bracha, in a shooting ambush in the Palestinian town of Hawara in the northern West Bank. 
The gunman fled and by Monday afternoon he had not been caught by the Israeli army.
Following the shooting, groups of settlers rampaged along the main thoroughfare in Hawara, which is used by both Palestinians and Israeli settlers. In one video, a crowd of settlers stood in prayer as they stared at a building in flames.
Late Sunday, a 37-year-old Palestinian was shot and killed by Israeli fire, two Palestinians were shot and wounded and another was beaten with an iron bar, Palestinian health officials said. Some 95 Palestinians were being treated for tear gas inhalation, according to medics.
On Monday morning, the Hawara thoroughfare was lined with rows of burned-out cars and smoke-blackened buildings. Normally bustling shops remained shuttered. Palestinian media said some 30 homes and cars were torched.
Other Palestinian villages -- Burin, Zatara, Odala and Asira -- were also attacked by Israeli settlers.
The West Bank is home to a number of hard-line settlements — several of them in the immediate vicinity of Hawara — whose residents frequently vandalize Palestinians land and property.
The international community considers the Israeli settlements in the West Bank and East Jerusalem illegal and an obstacle to peace. Sunday's violence has drawn condemnation from the international community.