Gaza rockets and Israeli strikes follow deadly West Bank raid
Comments
By Euronews with AP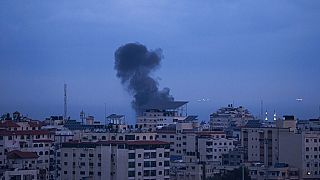 -
Copyright

AP Photo/Fatima Shbair
Palestinian militants in Gaza launched rockets at southern Israel and Israeli aircraft struck targets in the coastal enclave early Thursday after a deadly gun battle with Israeli troops in the occupied West Bank killed 10 Palestinians.
The bloodshed extends one of the deadliest periods in years between Israelis and Palestinians in the West Bank, where dozens of Palestinians have been killed by Israeli fire since the start of the year. Palestinian attacks on Israelis in 2023 have killed 11 people.
The violence comes in the first weeks of Israel's new far-right government, which has promised to take a tough line against the Palestinians and pledged to ramp up settlement construction on lands Palestinians seek for their future state.
Israel was bracing for a retaliation and police were stepping up security in sensitive areas. A day after a raid in January on the Jenin refugee camp in the West Bank that killed 10 Palestinians, a Palestinian shot and killed seven people outside a synagogue in east Jerusalem.
On Thursday, police said security guards at the entrance to a West Bank settlement shot and lightly wounded a woman who police said attempted to stab the guards.
The Israeli military said Palestinian militants fired six rockets from the Gaza Strip toward the country's south early Thursday. The Israeli military said air defences intercepted five of the rockets, which were fired toward the cities of Ashkelon and Sderot. One missile landed in an open field. 
Israeli aircraft then struck several targets in northern and central Gaza, including a weapons manufacturing site and a military compound belonging to the Hamas militant group that rules Gaza. There were no reports of injuries in Israel or Gaza.
Violence in the West Bank often sets off a response from militants in Gaza, although the rocket attacks were not immediately claimed by Palestinian militant groups.
Among those killed in Wednesday's raid in Nablus were Palestinian men aged 72 and 61, and a 16-year-old boy, according to health officials. Scores of others were wounded. Various Palestinian militant groups claimed six of the dead as members. There was no immediate word on whether the others belonged to armed groups. Officials also said a 66-year-old man died from tear gas inhalation.
It was one of the bloodiest battles in nearly a year of fighting in the West Bank and east Jerusalem and raised the likelihood of further bloodshed. Israeli police said they were on heightened alert, while the Hamas militant group in Gaza said its patience was "running out." Islamic Jihad, another militant group, vowed to retaliate.
In response to the raid, a strike was called across the West Bank and schools, universities and shops all shut down in protest. Schools and universities were shuttered in Gaza. Most shops in east Jerusalem were also closed.