Zelenskyy speaks one year after the start of Russia's full-scale invasion of Ukraine
Comments
By Euronews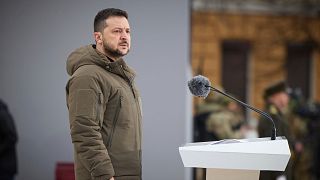 Ukraine's President Volodymyr Zelenskyy thanked reporters from around the world for their continued coverage of Ukraine in a press conference in Kyiv on Friday.
The conference followed a day of ceremonies and events marking one year since Russia's full-scale invasion began on February 24, 2022.
This concludes our live blog, thanks for reading.
02.24.2023
16:54
Lula calls for countries not involved in war to lead peace talks 
Brazilian President Luiz Inácio Lula da Silva is urging countries that aren't involved in the conflict between Russia and Ukraine to lead talks to restore peace between them.
The Brazilian leader wrote Friday on social media that "it is urgent that a group of countries, which are not involved in the conflict, take on responsibility for heading negotiations to reestablish peace."
02.24.2023
16:38
What happened to diplomacy?
Twelve months into the war in Ukraine, efforts to find a diplomatic solution appear to have ground to a halt. Euronews asked the experts why this happened. Find out more 👇
Is there any possibility of a negotiated solution to the war in Ukraine?
02.24.2023
16:31
Protests in support of Ukraine from around the world
From Brazil to Japan, people have been gathering for vigils and protests in support of Ukraine.
02.24.2023
16:20
Protesters detained in Russia 
Russian media and rights groups say police in various parts of the country have detained protesters who took to the streets with antiwar slogans or flowers on Friday.
At least eight people were detained after taking flowers to a monument to victims of political repression in Yekaterinburg, according to the OVD-Info legal aid group. 
And it said another two people were detained in St. Petersburg after bringing flowers to a monument honouring Ukrainian poet Taras Shevchenko.
02.24.2023
16:18
A look back to the first days of the war 
During the first week of the war, Ukrainian President Volodymyr Zelenskyy posted many images and videos of himself in Kyiv to prove that he was still in the city.
02.24.2023
16:12
Sweden to send Leopard 2 tanks to Ukraine
Sweden's government says it will send up to 10 German-made Leopard 2 tanks to Ukraine.
The commitment is aimed to reinforce similar announcements recently from other European countries to send in the high-tech, broadly-deployed tanks to help Kyiv meet its demands for better firepower against Russian forces.
Prime Minister Ulf Kristersson told a press conference Friday that the move by Sweden followed a decision by Germany last month to send more than a dozen of its Leopards to Ukraine and green-light other Western allies to send them, too.
Sweden said it also intends to donate parts of its HAWK and IRIS-T air defence systems to Ukraine. Sweden is seeking NATO membership.
02.24.2023
16:12
War is reminder of how 'present and future can change': Romania's President
Romanian President Klaus Iohannis says Russia's invasion of Ukraine is a reminder of how the "present and future can change in an instant" and called for Moscow to be held accountable for crimes its forces have committed in Ukraine.
Iohannis said in a message posted online that innocent people have lost their lives, others have lost their homes and saw schools and hospitals destroyed while many others had to flee the violence for the sake of their children.
He said Ukrainians have "impressed the whole world" with their courage and that they protect the freedom and security of the whole of Europe.
(AP)