Sanctions are hitting Russia where it hurts. We must not lose momentum
Comments
By Anne-Marie Trevelyan, UK Minister of State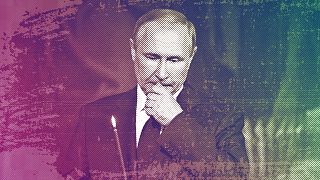 -
Copyright

AP Photo/Euronews
The opinions expressed in this article are those of the author and do not represent in any way the editorial position of Euronews.
Few of us would have thought it possible a year ago that war could return to Europe in the 21st century, and yet today, we find ourselves marking twelve months since Putin illegally invaded Ukraine.
Once again, Europe and our allies have pulled together when it really counts — standing up to an aggressor to protect our neighbours in every way we can. 
And not just with military and humanitarian support, but with the largest use of coordinated sanctions ever levelled against a major economy — sanctions which are hitting Russia where it hurts.
We forced Putin to scrape the barrel
International cooperation has been crucial in showing Putin he cannot take what he wants through aggression. 
Together we have immobilised more than 60% of the Russian Central Bank's foreign reserves, stopped Putin from profiteering from the spike in energy prices caused by his war, and cut Russia off from more than 75% of the services it relied on. 
We've also hamstrung Putin's ability to use our products for his military-industrial complex— leaving him harvesting fridges and freezers for low-grade microchips and scraping the barrel with Soviet-era tanks and missiles. 
The UK has frozen over £18 billion (€20.4bn) worth of Russian assets through our Russian sanctions regime, and I know European and other international partners have been doing the same.
Our sanctions show Putin that we won't stand for his aggression, and there's no doubt Russia is feeling that. 
Their economy is in a severe and sustained economic recession, and despite Putin trying to hide the facts through massive increases in military spending and using up his national wealth fund, most forecasts show they will continue to fall a further 2-5% in 2023.
This would make it Russia's longest recession for over 25 years. 
But there's no time to pause — as Ukrainians enter their second year living under relentless and full-scale Russian bombardment, the UK, the EU and our allies must accelerate our efforts to ensure Ukraine wins this war and secures a lasting peace.
We can't let Putin and his cronies try and slip through the net
Today the UK has announced more sanctions — coordinated with our international partners to further isolate Russia. 
There is no doubt that these will hit Putin's war machine hard, but to maximise their impact, it is vital that international partners now ramp up collaboration to stop Putin and his cronies from trying to slip through the net. 
And there are two key parts to this. 
First, we must coordinate our law enforcement and regulatory bodies. Just yesterday, officials from the UK, EU and US met in Brussels to discuss our next moves. 
We compared existing analyses and agreed on what other data sharing is needed, and discussed how best to connect our different jurisdictions and how to further enhance our close partnership with the Government of Ukraine.
Second — as UK Prime Minister Rishi Sunak and Ukrainian President Volodymyr Zelenskyy made clear — together, we must ensure that Russia has no access to the assets we have frozen or immobilised until it ends, once and for all, its violation of Ukraine's sovereignty and territorial integrity. 
Our law enforcement agencies must work with the private sector to stop those trying to circumvent sanctions, identifying and imposing a cost on those individuals, companies and organs of the Russian State that support Russia's illegal war.
Tighten the vice until Ukraine prevails
A long and static war only serves Russia's ends, which is why as we reach one year, we must not lose momentum. 
It is imperative we continue to push forward together on sanctions: tightening the vice where we have further to go, working together to stop circumvention, and pursuing all lawful routes to ensure that Russian assets — frozen or immobilised — are made available in support of Ukraine's recovery and reconstruction.
For our allies, for democracy, and for all smaller countries that are threatened by their bigger neighbours, we cannot stop until Ukraine has prevailed. 
_Anne-Marie Trevelyan was appointed as a Minister of State in the Foreign, Commonwealth & Development Office on 26 October 2022. Anne-Marie was first elected as Member of Parliament for Berwick-upon-Tweed in 2015.
_
At Euronews, we believe all views matter. Contact us at view@euronews.com to send pitches or submissions and be part of the conversation.